WHO WE ARE
Going airbourne
to explore the world
from the sky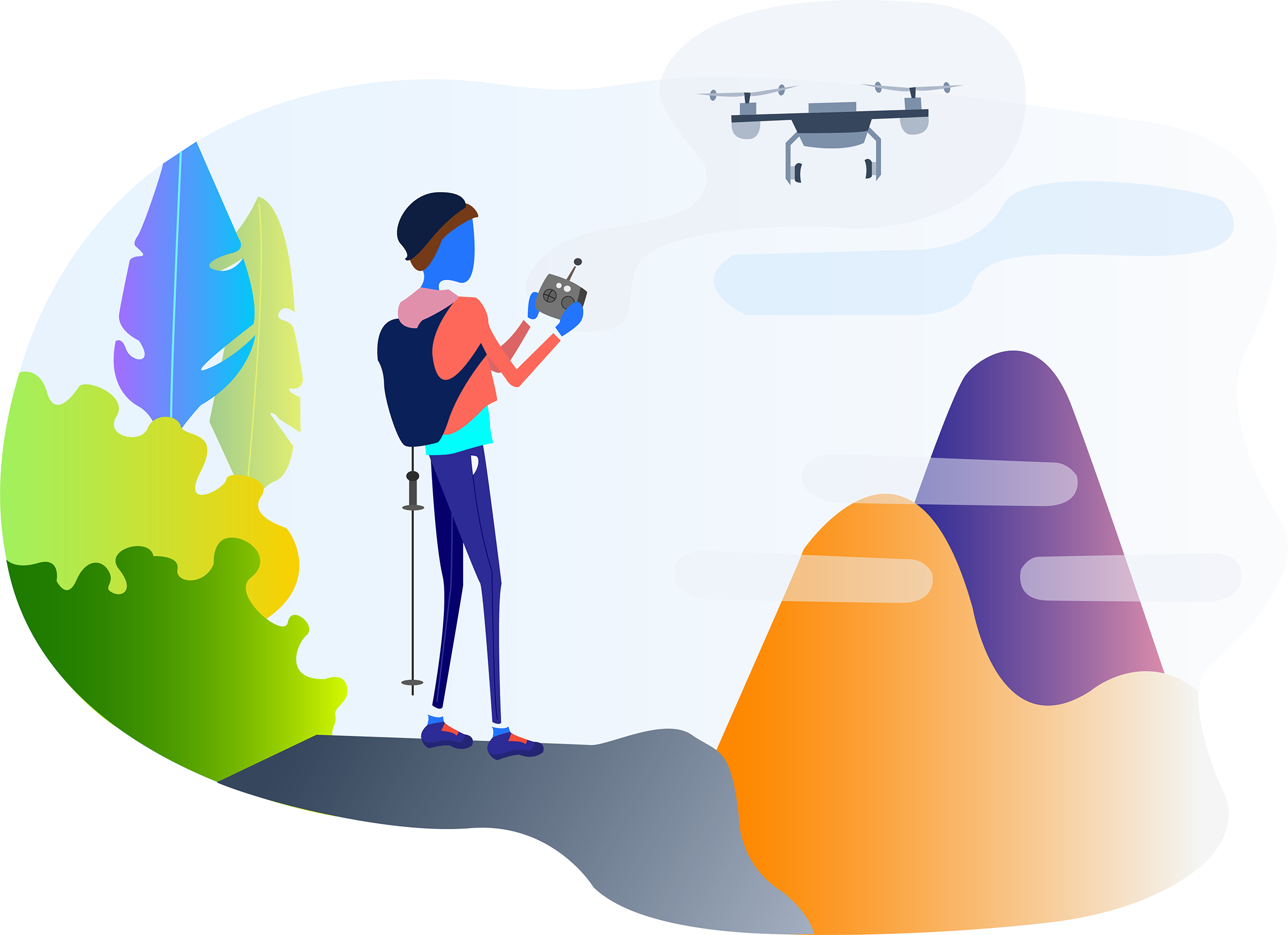 Long Range Multirotor
A new super class of long range multi-rotor drones are now competing with fixed wing drones but with all the advantages of multirotor drones.
Level 6 Pilots
The drone controls itself under all circumstances with no expectation of human intervention including full-time automation of all tasks under any conditions.
AI Enabled
AI-based technology enables drones to detect objects while flying and allows the analysis and recording of information on the ground.

Nano Drones
Nano drones, the advanced systems that pack a lot of functionality into a tiny form factor, are becoming a major military tool.
Multispectral
Multispectral imaging camera sensors on agricultural drones allow the farmer to manage crops, soil, fertilizing and irrigation more effectively.

Cinematic
One of the most significant filmmaking innovations of the past decade has been the explosion of affordable drones with high-quality cameras.
Start a game-changing career working with dynamic drone technology that anyone can rely upon!!
Our Vision is beyond normal thinking to make impossible the possible
Agriculture
Birdscale already utilizes drones technology to manage livestock and survey crops. In the future farmers and ranchers could use unmanned aircraft to strategically monitor and spray their crops.
Conservation
Unmanned aircraft are being used to monitor endangered species and map the changes in various ecosystems around the globe. As drone technology advances, the use and impact of unmanned aircraft in conservation efforts will expand.
Delivery / Fulfillment
Anything the postman can carry can also be delivered by drone. Food, prescriptions, that last-minute birthday gift for your dad in the near future, there will be big changes in the way packages arrive to our doors.
Disaster Mitigation and Relief
Drones can go places that humans can't access, so they are an ideal solution for dangerous search and rescue efforts, as well as for delivering emergency supplies to remote locations and disaster areas. Drones really helped us greatly to battle the novel coronavirus.
Logistics
Heavy-duty drones can replace trucks for inventory management and moving goods between warehouses. This is likely to decrease the number of semis you see on the road. IOT powered drones Get location triggered by incoming orders and drones automatically fly its location.

Film making and Photography
Low-budget filmmakers are already using drones to capture the aerial shots and Indian film industry is already hiring full crews of drone Unmanned aircraft while photojournalists capture breaking news from above.
ISPs
Transceiver mount drones deployed in relays can give uninterruptable internet communication even when you are partying in a boat kms away from seashore. A solar mount on its top can fly it for hours.
Law Enforcement
CCTV's changed the world of Surveillance isn't it? So what is a CCTV have wings and that's what a security drone is!! A thermal sensor mount drone can identify breaches that are even 2 kms away that eventually auto navigates to them in a minute. We all remember the carom board player and his dhoti aren't we?
Real Estate
Real Estate listings are poised to change completely with high-definition videos capture by drones that fly through neighborhoods, and into every room in a listed house. Who will not love to see the whole of his property at a single snap?
Let's Collaborate
Ready to
work with us?